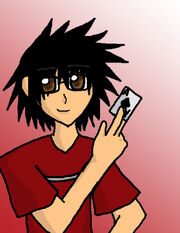 Matt is Amy's older brother and has appeared in some of her earlier works.
He can be found on dA as Neo97x.
Author's World
Edit
Author's World was a series about the life of the author--Amy--which were first featured in the physical copies of Amy's old manga series that she made for her friends. The series was later redone and uploaded to deviantART on the Pacthesis account.12 3 45 6
deviantART Gallery
Edit
Much like Amy, it seems one of Matt's hobbies is collecting figurines of anime characters. The majority of his dA account is pictures of his figures.
In January of 2011, Matt started uploading his attempts in learning how to draw. Amy helped in this by
red-lining
his early sketches to help him learn basic anatomy. He moved on to drawing anime characters, mimicking the style of the show the characters were from. His own style never fully emerged before he stopped posting on dA.
There has been nothing uploaded to his account since August 2011. However, he still talks to people on dA.
Ad blocker interference detected!
Wikia is a free-to-use site that makes money from advertising. We have a modified experience for viewers using ad blockers

Wikia is not accessible if you've made further modifications. Remove the custom ad blocker rule(s) and the page will load as expected.